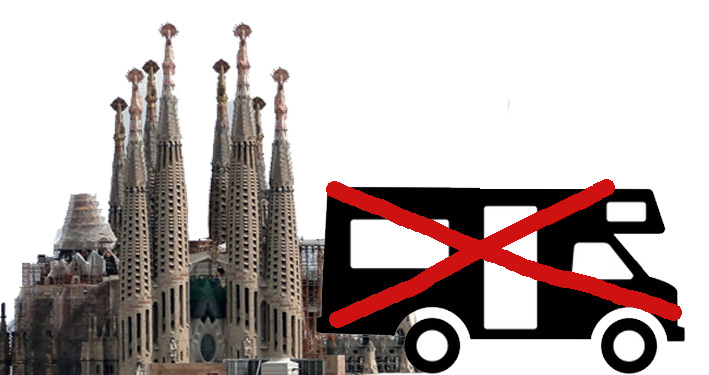 If you are an uninformed motor traveller like we are, coming from France southwards toward the city of the marvelous Gaudi, envisioning a beautiful sunset in front of your motorhome on the long beach of Barcelona with a bottle of Riocha on your campingtable … think twice.
Don't get us wrong, Barcelona is a beautiful city, with great architecture, modern, young, alive, relaxed, with a lot so see and experience. Now after living a month here we know.
The only thing is: if you are motorhome owner, you should stay away from the city and park your vehicle asap in one of the guarded parkings. Then search on airbnb.com or couchsurfing.com for a nice stay and have a great time.
There are various reasons why we recommend this:
You are in high danger of getting burgled or threatened.
Barcelona has a high criminality on motorhomes & foreign cars. We have been burgled within 48 hours after entering the city, during the day on the beach. Normally – like in our case – the criminals would smash the front window and open the car. Other travelers report here and here also attempts through hitting the rear door, punctuating the tires and then "helping" with the repairs, or trying to stop the car in any other way.
If you don't believe other motorhome owners, believe the car glass repair branches map or the Ralarsa branches map (second car glass repair company). Barcelona is big business! Clearly visible where they have the most customers …
Parking in the city is a nightmare.
You will pay a lot for parking in the city, if you find any.
There are different parking zones in the city, which will cost you a minimum of 2,50 per hour. It is hard to find free parking reasonably close to the center. There are no parking spaces outside for bigger vehicles. Close to the attractions there are just a few spaces to park, and if you make just a little parking violation, you will be towed away.
If you choose a motorhome camping, you will regret it.
You pay 30 Euro per day and you will stay in between big trucks, with poor sanitary facilities and no shop or cafe.
The public transportation system in Barcelona is excellent.
There are many metro lines, tramways and busses, covering the all city and it's surroundings. No need to drive a car in Barcelona.
PS: Our personal story had a happy end. Desperate because of the theft of all our clothes, and being stranded on a guided car park, angel Guido was offering us his empty flat in Barcelona, and angel Ana and Saverio introduced us to the city. But this we might write in an other post …