Greater connection with Nature and its cycles.
Something I really enjoyed of living in a narrow boat is that immediately NATURE is around you and you are part of it. A little bit like when you are camping in the summer, but in this case you have the spectrum of all seasons. DAY and NIGHT with light and darkness have a bigger impact when you don't have thick walls around you and limited electricity. Especially during the winter, when in England the sun sets around 4pm and the weather is gloomy and grey all day long.
Our winter days would more or less look like this: Waking up with the tip of the nose cold and BURNING a FIRE in the STOVE as soon as possible. Gabriel was most of the time the morning angel that would do it. Than we would indulging in bed when possible for a while with the excuse to wait for the boat to get warm. Breakfast would always be a must to start the day well. Than off to work or do some emails in a local cafe with my laptop. I would return to the boat when it is already dark and cold. That kind of HUMID COLD that penetrates into your bones.
So fast: let's light a fire again! Turn the gas on to get some fast warm air while preparing dinner. We had few LED lights in the shape of stars that we would turn on and create a COZY atmosphere. We usually had meals early with CANDLES on the table, talks by the fire and CUDDLE in bed quite early, sometimes already at 9 pm. If during the day we managed to fully charge one of our laptops at the local cafe, we would watch a nice MOVIE.
Yes, light and ELECTRICITY supply is an issue for boaters. The LED lights would not be enough if you really need to see what you are doing, for example reading or cooking. The main light power was supplied by the diesel engine and solar panels and it would last only a few hours; and it would also have to charge the fridge. In the winter actually we did not use the regular fridge, instead we had a special cellar. It was part of the boat near the entrance that would not get any heating and stay very cool all the time.
Sometimes when the TEMPERATURE goes below 0, the surface of the water canal can freeze and you can't move your boat for weeks. That means: no water supply in case the tank is empty, and no way of emptying your toilet. Hopefully you do not need coal or gas in this time because the boat that normally supplies it can not transit. No fun! Luckily, this doesn't happen very often.
SUMMER TIME is much easier: light comes in early trough the curtains. Breakfast is served on the deck or on the roof. We would often extend a little bit the living space out into the bank of the canal with few reclined chairs and having afternoon tea or late aperitif there. Almost all sunny days Gabriel would improvise a BBQ and we would watch the SUN SET outside with a glass of wine or a cold beer, sometimes chatting along with our boat neighbors.
In this season the light is not an issue but the fridge yes, as it needs to be on all the time and consumes a lot of energy.
We have been mooring in many places. Sometimes in busy areas in the middle of the city, and sometimes in parks or green areas. My favorite spot is Victoria park. There it is quiet and very green with a lot of trees. On the other hand, the night is super dark with no lampposts. So DARK that it is scary to walk along the canal on the way home. On this spot our boat and 10 others were burgled once during a winter saturday night.
Cycling along the canal, free from traffic
I love cycling! It is for me a way of getting to know better the city and to feel more active and  independent. London is big and most of the streets are quite narrow, you often have to share pathways with crazy bus and taxi drivers.
When I moved on the boat I started to cycle much more on the pathway along the canal. It is quite convenient because the canal is crossing the entire city from WEST to EAST and provides a good bike path. It is great to ride with no worries and be able to enjoy what you see around. In many places it feels like being on the countryside.
Being next to the water would also add a sense of CALMNESS and flow, that will influence positively the mood of my day. Sometimes in the evening it would be pretty dark and maybe a bit scary, but by speeding up the cycling pace it would be ok.
Influenced by the Water Element  
The first thing you notice is the gentle ROCKING motions while you are on board. In the beginning it might be strange and a bit uncomfortable but you can get used to it quite fast.
The canal doesn't have a strong current and waves like the sea. So it can take you by surprise when another boat is passing by too fast and you will suddenly move a lot up and down.
Living on water brought a NEW FLOW in my life. Something is always in movement and one can't deny that. Water is considered the FEMALE element, carrying a flow of emotions. This for me was true, I was much more moving into different FEELINGS. Sometimes sadness would come and I would easily cry or or I would open into love, joy or anger.
Me and Gabriel had quite a few strong arguments. Once I remember we were even throwing plates at each other, and mine were flying out of the door into the canal. Crazy, but luckily with no accident. The last 7 months on the boat I was also PREGNANT, so I am sure that the emotion swings I had were not just caused by the water flow … I guess many hormones were involved too. Actually the combination of being on water and becoming pregnant was very interesting for me. I think to be so close to the water all the time made my borders more loose, and I became more "PERMEABLE", we would say in a somatic terminology.
One of the things I loved most was when it was raining (and in England it happened a lot), to listen to the concert of the RAIN DROPS on the roof, while relaxing inside maybe in bed or drinking a cup of tea.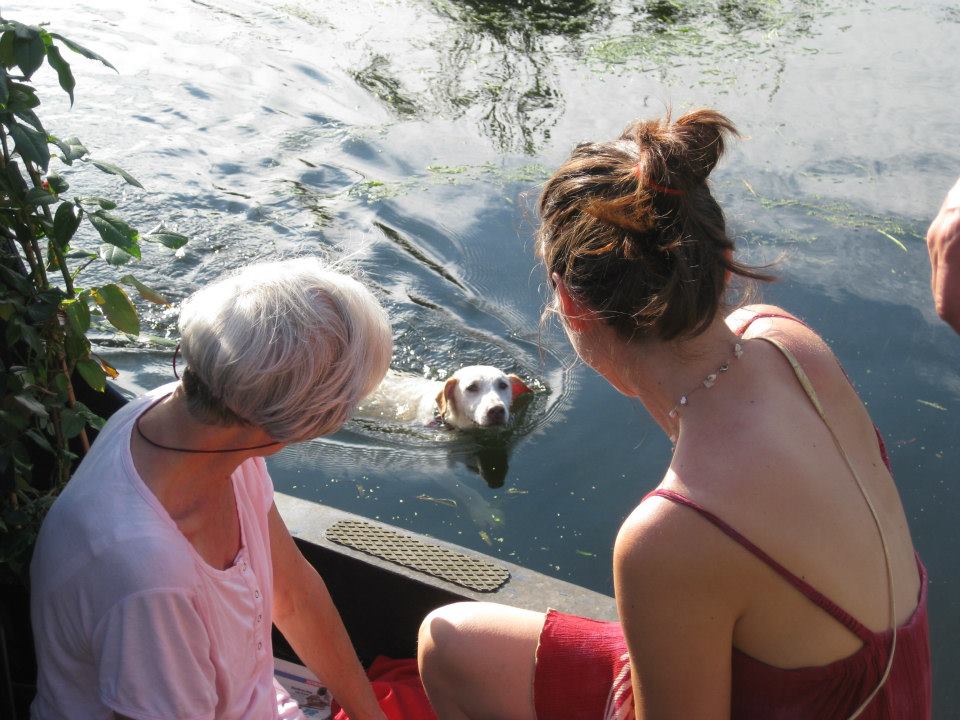 Hearing the sounds of nature
Even though the boat is quite well insulated, you are still more exposed to sound coming from the outside. The voice of the WIND would be very present and changing depending of what it would move in the surrounding environment. In the morning the STEPS of JOGGERS passing by would be our wake up call. During the day this would change to a marathon of cyclists, each of them with a different SPEED. And of course VOICES of people and children..We also had some nice gifts along our journey.In few spot we received some special visitors coming to knock at the side of the boat every morning…Who is there? -the ducks asking for food.
Than during spring you see on the side of the canal the all family with little new borne yellow ducks passing by at the rhythm of qua qua…An other time we had two swans making a love dance and concerto right next to our boat, what a special performance to see! All of this was actually quite pleasant.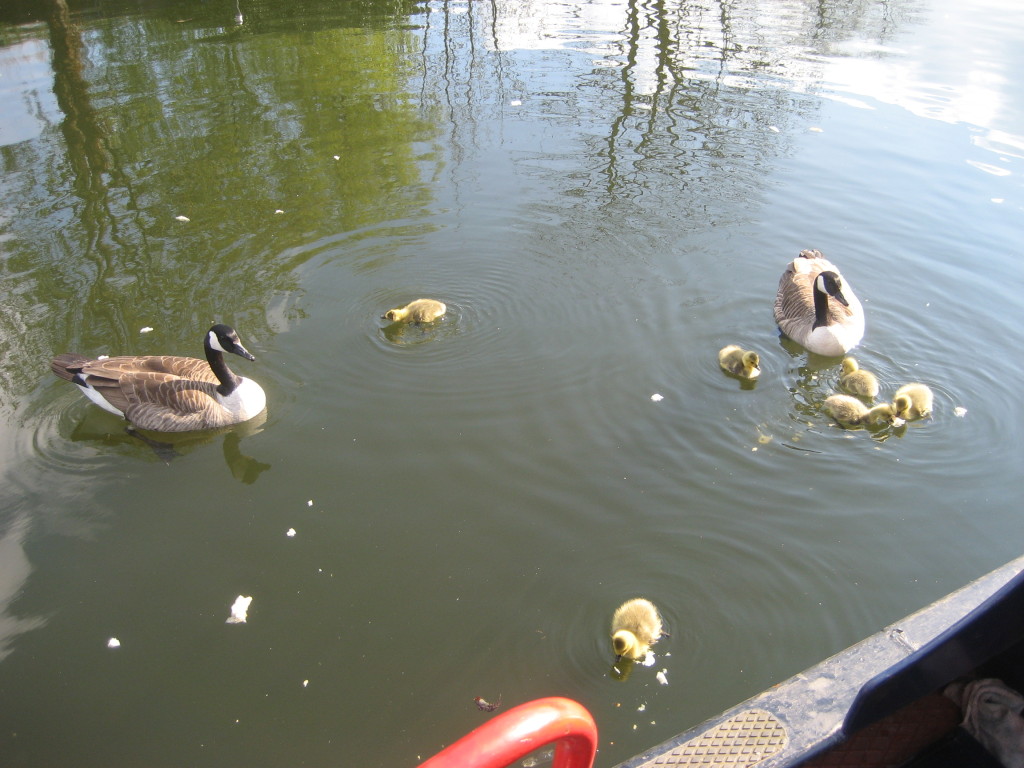 The worst was when we had to make an emergency stop. Our old engine was smoking and we couldn't move from this spot for more than a month. The place we ended out wasn't bad at the first look. It seemed quiet, but soon we found out that we had landed next to a building construction site with SCAFFOLDING and cranes just opposite. Every morning they would start a metal concerto at around 7 am and go on for most of the day. A Nightmare!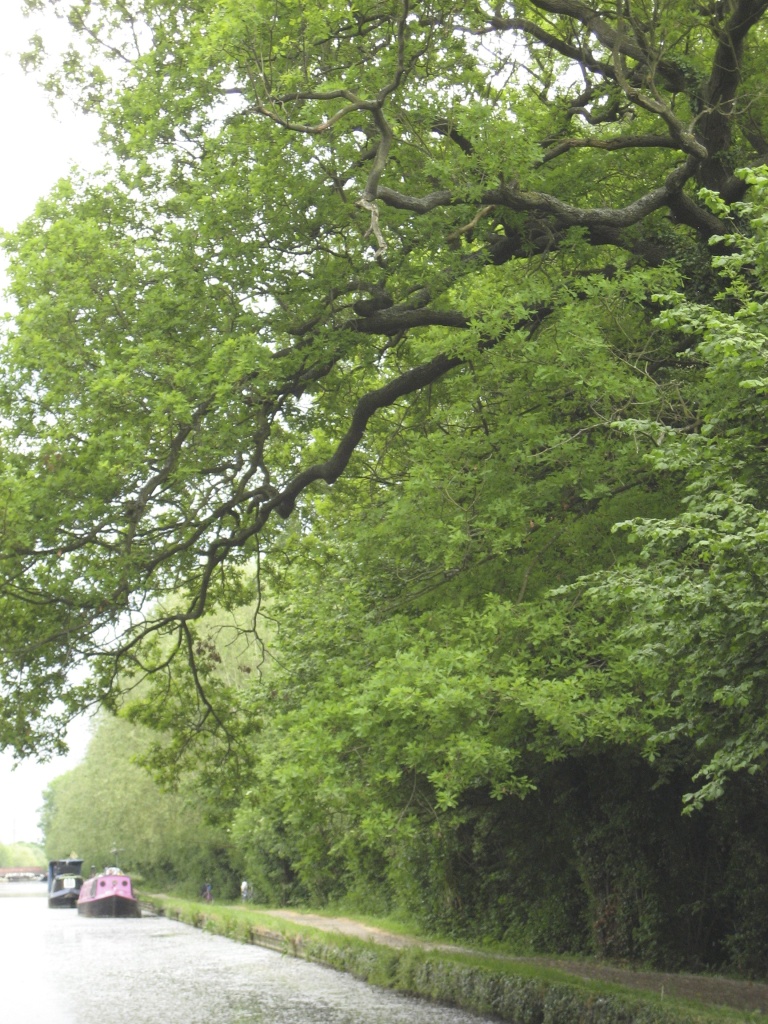 Being always in a different place ..
… with a NEW VIEW out of the window.
Most of the people living on a boat in London don't have a permanent mooring spot. First because it is very expensive to have such a place, and second because there is a very long waiting list. So we were CRUISING along, sticking with the rule of moving every 2 weeks to a new site. Unfortunately it wasn't allowed to change spot by shifting between your favorite spots. Yes, the British Waterway people would come to check boats and leave notes if you are mooring for too long. Once, we had to pay more then 100 Pound for 5 days overstay …
It takes a bit of an effort to stick with the rule, but it slowly becomes a nice ROUTINE. People that have regular full time jobs are finding this hard, but for us it was ok because we both had flexible freelance jobs.
I did actually like to do our regular move. It became like a little ADVENTURE, a day of change. I also liked very much to discover always NEW PLACES. Even if we would revisit the same area, it would never be the same spot, the same boats arrangement and the same people around us, the same direction of the boat in the water and of course the same view from the windows. At times it can be a bit disorienting when you are stepping out of your boat in the morning and you need to work out your new way to: the closest supermarket, your work, to the bus, to the local cafe, ..
Smart phones are super in this case of course! But if I had the time, I would love just to go for a WONDER in the area close to the canal and make my daily DISCOVERY. Or jump on my bike and take a good ride around. It felt like if I had to take a fresh look at my life and surroundings. Nothing is for granted and actually you can get a lot of nice SURPRISES every day.
All those changes outside make you appreciate even more the cozy NEST of our boat, that is always coming with us, like a SNAIL SHELL HOUSE. I had the luck to live in very central and cool places of London and into green areas with a taste of countryside. Some of my favorite places in the center are Angel, Notting Hill, Broadway Market, and than the greeny spots like Victoria park, the Hackney marshes (Springfield), and the Stonebridge lock (Seven Sisters) close to the water reservoirs.
Women and Engines
Driving a boat is an interesting challenge. It is not going to take you far and fast somewhere. It is not about reaching a goal, so you can just RELAX and ENJOY the panorama! Learning to drive is possible and fun, it takes a bit of time for your brain to work out that the tiller (stick to manoeuvre the boat) needs to be pushed opposite the direction that you want to go. But after a short time it becomes quite enjoyable. To understand how the actual engine is working is complicated. Especially with our engine that was behaving strangely since the beginning.
Once I was really shocked: Despite we could not move the boat because of a problem, we were still using the engine to charge the batteries. One morning I was on my own waiting for the engineer to come and fix the problem. For some reason I did not turn the engine on for the usual charge. When he arrived and started THE ENGINE, the boat began to smoke like crazy, making a huge and thick white cloud that was filling the air around us. The engineer, a very funny mid age guy and ex pilot and boat expert, could not turn the engine off with the normal emergency stop button. Not fun!
The WHITE CLOUD was getting bigger and bigger and the NOISE of the boat engine faster and louder. He asked me to jump off the boat immediately and stay away. Then he opened the metal door to the big engine. He started to touch several parts and cut cables to stop the engine. Finally, after probably the most interminable 3 minutes of my life, the engine started to slow down and the white smoke diminished. The engineer was looking pale and I was in SHOCK for several hours, thinking I was very lucky that I did not have the idea to start the engine on my own that morning. I wouldn't have known what to do and the engine would have blown up with the boat for sure. Life is really unpredictable and angels exist.
It was an AMAZING adventure to live on the boat  and I enjoyed all aspects – but I guess this episode was a sign. It was telling me that it's time to move on land and make a nest for my family.