It's hard to admit for a declared gypsy-trio, but we are looking since a while in Spain for a community to live in ..
We made our homework recently, modeling our dream-place of an art-community on Montgat beach near Barcelona. For this we took our shoes (representing houses), stones and shells (walls and river), aluminium-foil (solar-panels), a transparent plastic cover from the pushchair (a hall for creative action), some leaves (for the rooftop of the community kitchen) and some sticks for some big art pieces and children playgrounds. Can you recognize the beauty? 🙂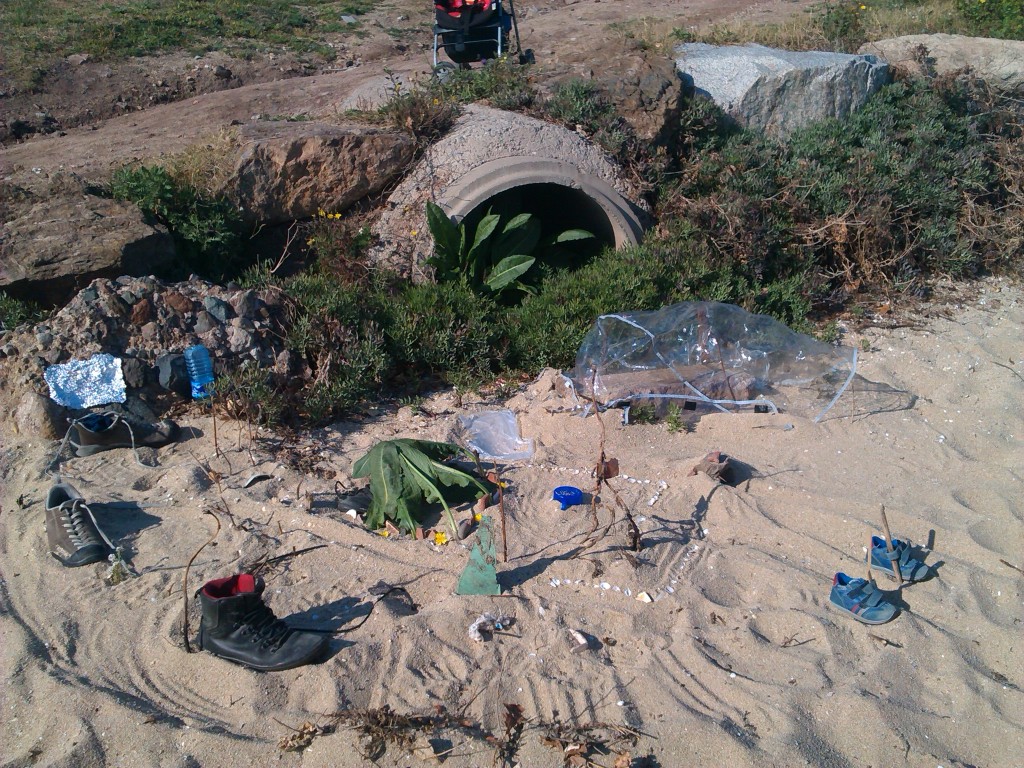 We wrote everything that's in our heart about living in a creative community on a whiteboard as well.
Then we remembered the hint of a friend, who gave us some information and photos about an empty monastery near Girona. We had the phone number, so we scheduled an appointment for April 28th and went there with the van one day early, to check out the surroundings (and avoid the morning traffic in Barcelona, Melody is clever!).
The village of Pontós, where the monastery is located, is a little village with 281 inhabitants. The houses are nice and beautiful, the streets are clean and quiet, and just in the back there are a few houses for sale. Children are playing on the public football field, and around the village there are fields and wood land. The Costa Brava with nice sandy beaches is only 30 min. away by car, a little bit less then Girona airport with cheap Ryanair flights to all european metropoles. A big river passes the village in a distance of just 3 km.
So we were very excited to see the place and look into the potential of founding an art community there. The photos that we saw before were looking very promising, with 4.000 m2 buildings, 15.000 m2 surface, a pool and even a chapel. It is licensed for hotel, restaurant, leisure-activities and sports and sleeps approx. 150 people. There are 2 kitchens with 2 dining rooms, and a nice library.
We were so excited, that we even created an presentation and an invitation for participation, asking around if there are people like us willing to jump into an adventure.
The owner of the place was nice and showing us through all the garden and rooms. And quickly we saw, that the already anticipated downsides of the place were stronger then we thought:
The place isn't used since several years, so there is a lot to cut, clean up and renovate
No heating for the winter – nowhere
The windows are thin, old and on several places broken – Same with some of the doors
There are many small repairs to do on doors, walls, windows, stairs
Place is completely empty, nearly no furniture except some old children beds and some wardrobes.
The kitchens are shabby and miss stoves, pots and dishes
The pump of the big pool is broken and leaking (concrete wet)
The contract runs 10 years, but after 5 years the owner reserves the right to sell
The plus:
The substance of the buildings is still good. No water, little cracks, roof seems proof
The private rooms can basically be used without further renovation
Electricity and water are OK
The place is simply … huge!! With many many interesting buildings. In the 2 main buildings there are all together 20 rooms on 2 floors, some of them usable as dorms. A capacity of 150 people is maybe too much, but 50-100 without problem
There is a huge barn outside without walls, and interesting drawings on the wall that can be used for outdoor activities
In the garden is a football-field and in the backyard a basketball-area
There are many possibilities for veggy-gardens and permaculture
The rent is very cheap for a place like this with 1.500 Euro (maybe further negotiable) and 3-4 free months for clean-up
Our conclusion:
For us with only a handful interested people this place is way to big and needs too much renovation. Until we would finish the refurbishment, the owner would sell the place.
If we would find 20 people that share our enthusiasm for cool places and a creative community movement with exhibitions, workshops and festivals, and are willing to make their hands dirty for a few years, we will change our minds 🙂
So write us if you like the space and the plan!